"Grief is about doing … if you do stuff, you express stuff, that's when you move forward in grief"
Since 2018, we have been delivering workshops, courses and weekend retreats – all carefully designed to help you manage and express your grief in ways that are both active and true to you.
Our understanding of grief is that it is almost by definition a 'creative' process.  The trauma of our son's death left a hole in our lives that needed to be filled. Healing the wound has inevitably been process of making things anew, writings, stories, pictures, new friendships and relationships even; all things that did not exist before Joshua died.  Some of these are personal, some we can share with others, they all start from that seed of hope that lies deep in our broken hearts, the stuff of love.  
We want to help you to find that stuff that comes from within; to do the things that will help you to find new meaning in your life. We want to help you discover new ways of remembering your child and your lives together.
During these retreats, you will work on ideas that flow from the concept of 'continuing the bond' with your child – of not wanting to cut off from them but of building a new kind of relationship with them.
We don't pretend that this is easy, but we've designed  our courses to guide you gently as you struggle to find the symbols and metaphors that will give meaning to your life without your child. And we want to show you some new practical and creative skills that will help you as you begin to integrate your loss into your life.
Our next ACTIVE GRIEF RetreatS
Our next retreats are
10th – 12th May & 13th – 15th SEPTEMBER 2024
Blackadon Farm, 
Nr Ivybridge Dartmoor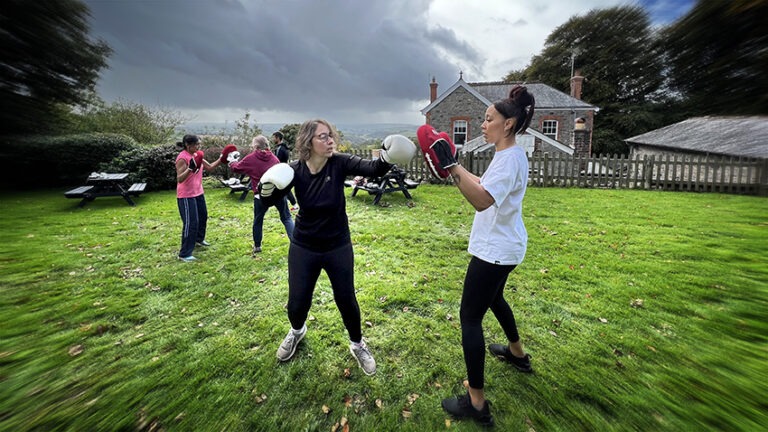 What Previous Participants Say
"Unique in the approach to grief …. I want to come again and would recommend it in a heartbeat."
"It could have gone two ways – wishy washy or deep – and it went beautifully, delicately deep."
"What you have created for us has been beyond expectations … I don't want to go back into the 'real' world."
"Completely blown away – I feel safe, normal, comforted, warm and 'fun'. Very therapeutic – thanks from the bottom of my heart."
by the bereaved for the bereaved
Our Active Grief Retreats will help you manage and express your grief in ways that are both active and true to you.
Located in a remote rural locations our exclusive weekend grief retreats are run by the bereaved for the bereaved.  You will experience a genuinely supportive environment in which we will help you discover new ways of expressing your grief, of sharing the story of your loss and reconnecting with your much-loved son or daughter.
The venues offer truly gorgeous accommodation with boutique-styled bedrooms (mostly ensuite) which have been individually styled with stunning wallpapers, plump cushions and luxurious bedding.  
All meals are included (delicious home-cooked food lovingly prepared by our own favourite chefs Rosa and Sharon) with vegetarian and vegan options available. We offer a complimentary drink before dinner on Friday and you are welcome to bring your own alcohol for the remainder of the weekend's meals.
The timetable includes three 2-hour sessions (Saturday morning and afternoon, and Sunday morning) for photography, creative writing and physical activity. You can find more information on these below. No previous experience is necessary and while we encourage you to attend all three there is absolutely no requirement to join in. There is plenty of time just to be, get to know other parents or to find your own space.
BURSARIES AVAILABLE FOR THOSE ON LOW INCOMES
We are pleased to assist those on low incomes with discounted prices through our bursary scheme.  Make sure you let us know if this applies to you. 
Note: If you work in the building or associated trade and are on a low wage, you may be eligible for a full grant from the Rainy Day Trust – please download this booking form instead.
If you have any problems downloading or filling out the forms, please call us on 07808 472 885 – we are here to help!
YOUR ACTIVE GRIEF RETREAT - WHAT CAN YOU EXPECT?
You can take part in three different workshops plus a wide range of physical activity classes. None of these are compulsory and none require any previous experience. But we do hope you enjoy them and pick up some useful tips as you find new ways of expressing your grief.
Exploring Grief with Photography
Jimmy and Jane invite you to find new ways of expressing your grief with the use of photographs. 
Jane Harris and Jimmy Edmonds are Josh's parents.   Jane is a fully qualified psychotherapist and Jimmy an experienced film and tv editor with a passion for photography.  His book RELEASED was published soon after Josh died.
"One of the weird things about photographs is that, like memory, the meaning they have for us, can evolve with time, sometimes radically and overnight.
Think of any photo you have of your child and you know what we're talking about. Innocent snapshots that now become overloaded with longing and painful fantasies of what might have been.
Our task when we make new photographs with our child could shift those meanings once again – from the raw pain of loss to a new sense of a continuing relationship with him or her.
The very process of creating the images will force you to spend time reflecting on your emotions and to feel closer to your child."
Joe will lead as you explore physical exercise as a means of helping you process grief.
All these activities are tailored to meet the wide range of ability and fitness levels and will include some or all of the following: Group fitness sessions, Running, Jogging, Walking, Non-Contact Boxing and some (slightly competitive) Fun Games.
Joe Edmonds is Josh's brother and a fully qualified personal trainer with additional qualifications in nutrition for weight management and sports performance.
"Alongside all the positive physical outcomes that regular exercise can offer, being active also has huge emotional benefits that go far beyond improved self esteem.
Endorphins released during and after being active can really impact on our mood and current state of mind. So exercise is a valuable and important coping tool for grief and loss.
When we run for instance, we get into a rhythm that gives us a unique opportunity to reflect and to process our hurt and our pain. This can be hard work but exercise helps us to 'sweat it all out' which in turn, helps us to find what I call "golden moments" – moments of release where we can catch that special connection we have with our loved one."
Theatre director Jo Bousfield leads these sessions to help you get your inner voice out and onto paper (or computer screen).
Jo has  worked in theatre for over 40 years, notably Dr Foster's a small scale touring company, and more recently, Flies on the Wall and Barnstorm two youth theatres in the West Country. 
Jo's daughter Harry died early in 2012 having been diagnosed with spinal cancer four years earlier.
My workshops provide an opportunity to work alongside other bereaved parents. By giving 'airspace' to your perceptions I hope to help you to allow your loss to be alive, not buried."
All the sessions will have a mindful element to them in which Jane will help you discover the benefits of some simple mindful exercises and how they can be applied to your grieving.
Jane Harris is Josh's mum and along with her psychotherapy practice she is a mindfulness facilitator with over 25 years of clinical practice.
"There has been a surge of interest in mindfulness over the past few years but we should recognise that mindfulness is not a quick fix – it's not going to make you better and it's not a prescription for happiness.
Central to mindfulness is the practice of bringing your attention to what is happening right here, right now and acknowledging your feelings as they arise, moment by moment, be they pain or joy, peace or torment but importantly without judgement.
Mindfulness helps you accept the truth of the moment you're in, even, or especially, when that moment hurts. Rather than some kind of escape from grief, it can be a tool for helping you to accept your grief as real."
Gallery of Work By Participants from Previous Grief Retreats
The photographs below were all made by bereaved parents and siblings attending the session "Exploring Grief with Photography" during our previous grief retreats.