A Challenge to honour Josh's memory
The ten year anniversary of Josh's departing seemed a challenge under covid restrictions and I wanted to honor Josh's memory and make sure his family knew we were all thinking of them and of Josh. Since Josh died we grieved together, in fact my relationship with Josh's family began after Josh died. They opened the door to his friends and brought us into their process with first the funeral that took place over six hours at the Matara Centre and in this time there were numerous contributions from friends, family and work colleagues. There were songs, videos, poems, many, many photos and there too was space for tea and cake and just being next to one another. We all got to know more of Josh and of each other. We all planted Josh's tree together, we have all walked together, we remember, celebrate and grieve the loss of Josh together.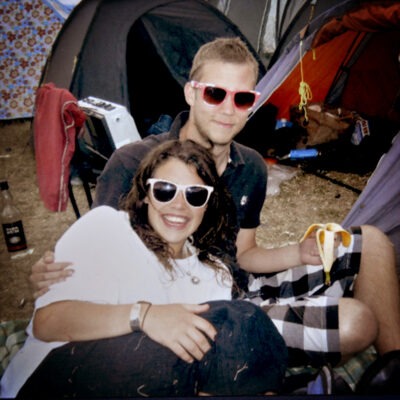 Jimmy and Jane, Rosa and Joe have taught us to be creative in our grief and brought in rituals and encouraged us to express ourselves. We've painted, written on ribbons and held Josh's ashes as we planted them with his tree. How would we be able to connect and remember Josh when we are all stuck at home? The legacy of Josh has been the ongoing work with other bereaved families in The Good Grief Project. As friends we have been able to participate in interviews, attend film screenings and meet up at Josh's tree for annual walks sometimes where other families who have lost a member have attended and we have all had the opportunity to share our grief.
Opening the door to grief
Opening the door to others to see how grief affects us feels important and with ten years passing it felt important to remember that we hadn't forgotten. I really couldn't think how to get in contact with all Josh's friends. I started making lists and worried I'd leave people out. I thought about making a scrapbook of contributions from friends and felt overwhelmed with the admin and worried it might not work. I called Antoine another old friend of Josh's and he said, "Nat why don't you get people to send videos and upload things onto a group, it'd be much easier than getting people to post things." Well that now seems like the obvious 21st century option that my old school brain hadn't thought of, well done Antoine!
Following this chat, I got on Facebook and looked at a group that was started 10 years ago by Josh's friend Victoria called Postcards to Josh. The concept for the group being that wherever we travelled we could send postcards sharing our experiences and taking photos of ourselves with a photo of Josh somewhere remote and beautiful. We could send these both via post or via Facebook to be uploaded by Jimmy and Jane to the group. Josh loved travelling and it was on an adventure in Vietnam that Josh was in a tragic accident so Josh is often in our minds when we adventure.
Messages of sadness and joy
This platform gave friends the opportunity to write directly to Josh which worked well for those unsure of what to say on an anniversary other than the common condolences which seem too commonplace to be personal, and this feels so personal. A letter to Josh felt right. The idea was planted and friends were happy to take part although there were some anxieties around the task. Some friends wrote to me and they said, "Just finding it hard to know what to say' or 'I'm writing the postcard – it is coming out sad, do I need to keep it up-beat or just slam it out from the heart? I don't want to make it a downer.' To be honest and open up space for negative emotions is tough and something through the Good Grief Project I've learned is vital for healthy bereavement. I told my friends to be honest, this is sad; we have amazing memories of our dear Josh, but we are grieving him and he isn't here. Like many times when we gather for Josh we hold both a deep sadness and a joy in our shared love and happy memories. It is certainly always emotional.
Anxieties aside, the courage prevailed and we had a wonderful collection of postcards to Josh from our friends across the globe. We were warmed by a video sent by Luke from a sunny beach off the Gold Coast in Australia sharing with us the numerous gigs he and Josh enjoyed together. Many people commented on how the years pass but memory lives on.
"I can't believe it's been 10 years mate. A lot has changed but somehow the memory of you still feels like a rock." Jesse
"It's been 10 years but doesn't feel like it, looking back at all the pictures and messages this morning it's clear that we all spent some of our most carefree and exciting times together with you and you where such a huge part of our lives." Chaz
"I miss you so much and still think about you a lot. You are one the most influential people of my life because you are the person I think about when times are hard. It's you that helps put things together." Simmo
"What is so special, is the mark you've left on everyone. You're like an annoying red wine stain, always there! Words don't quite describe the hole that is left when I think of you. I could talk to you and lean on you. Honestly, you were/are, one of the most amazing human beings in my life. I am so very proud of you and cherish the times we shared. Nothing can take that away!" Hollie
Sharing these postcards and memories connected us all and the honesty and emotion reminded me that we feel the loss deeply no matter how many years pass:
"Still have those mix CDs you made me from hospital records knocking about. Had High contrast- Days go by blasting out my van on the way to work this week. Made me smile, made me cry." Kai
He was always one to talk ….
To hear my friends who are mainly men talk so openly and honestly about their emotions makes something of this loss feel that it is contributing to us in a healthy way. Josh was always one to talk to, to support and offer help it seems right he is continuing to open us all up even though he isn't here. It is not easy to express sadness and loss, it can make others feel deeply uncomfortable but hopefully the more light we shine on these dark places the less alone those who grieve may feel. With life has to come death and I've learned through losing Josh with his family how myself and others navigate the process and how no matter how tough it may feel we are stronger sharing our love and our pain.
"Mostly though I want to say you'll always be missed mate and loved so much more than I can say!" Antoine
Bye for now
Nat (20 Jan 2021)