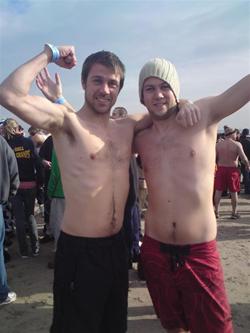 Ok, a 'tri' is a Triathlon and 'TCF' is The Compassionate Friends…  and on 23rd September Josh's brother Joe is competing in the Brighton Tri and hoping to raise £500 for TCF.
This is actually big news because Joe is a truly sporty fellow, loves a challenge, loves to compete, and loves to raise money for charity. Â  Â  But much of this endeavour has been sadly lacking in his life over the past year and a half, and his plunge into Brighton Marina will be the first such sporty/fundy thingy he will have taken part in since Josh died.
So in memory of his brother, we wish Joe every success in his day out to the south coast. Â  Â  We hope the weather is fine, the sea is calm (and warm) and that the hills around Brighton flatten out a bit. Â  Â  Â But most of all we hope Joe reaches his stated goal of finishing in the top ten.
And you too can share in his glory by cheering him on his way and supporting him in his (actually far more difficult task) of collecting that 500 quid. Â  Â  Â Please go the Just Giving page by clicking here and donating whatever you can. Â Thank you so much. Â  As that well known east end grocer once said "every little helps."
The Compassionate Friends is primarily a support group for bereaved parents but the money Joe raises will go towards developing its work with siblings who have lost a brother or sister. Â  Â  Â This is a new development for TCF and is very much needed. Â  Â  Â  For more info about TCF click here.