Name: Denise Martinez
Location: Palmdale, California
Filming Dates:  11th and 12th October  2015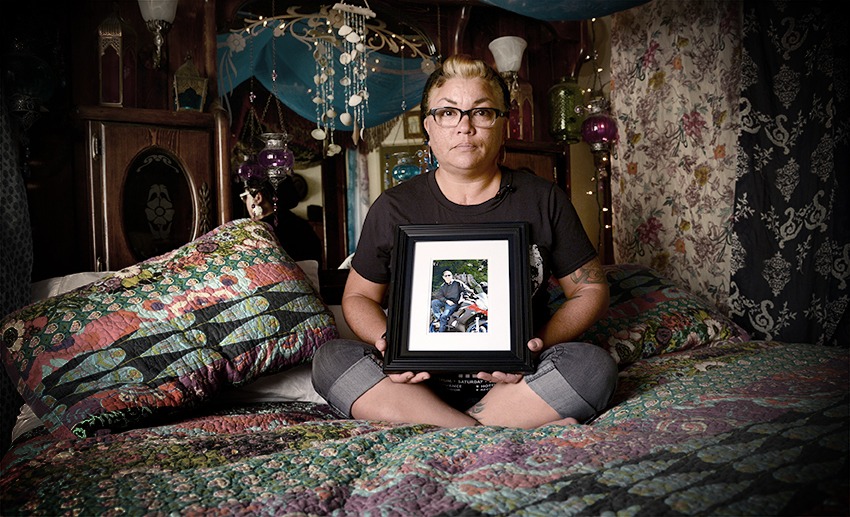 Denise Martinez married her childhood sweetheart Dale after they had both produced their own  separate families – Denise had four children and Dale two.  Although a late comer, Jesse, the one child they had between them was, they say, the glue that cemented their new 'blended' family.  So when Jesse died aged 17 just under a year ago one would have expected that the family would fall apart. But it was the strength of the continuing bond with their son and brother that has provided the most support in their grief.
Jesse learnt to ride a  bike when still in diapers (nappies!), progressing to the motorized version when still in elementary school and in this he was following in the footsteps of all the other males in the family, excelling first with off road dirt bikes and then achieving his licence for a 600cc road bike.   A significant moment for them all was a road trip he took with his dad and his uncles covering ten states in ten days – a right of passage for which he was reportedly very nervous.  "He was afraid he wouldn't be able to keep up with the men" Dale told us "but he learnt very quickly how to handle the machine, how to ride in formation and all the necessary skills for sensible and good road safety".
But within weeks he was dead.  He had snuck out late at night to pick up a girlfriend from work.  The first that Denise and Dale knew about it was when the police came knocking at their door. Jesse had been hit by another vehicle and died instantly.
The Martinez's are more of a clan than a family – (on the day we stayed with them 70 had turned up for one of Denise's grandchildren's 7th birthday party) – and bikes of all kinds (though especially Harley's) are part of their DNA.  But they were not the cause of Jesse's death which they say was a road accident pure and simple.  In the road trip he had taken with his uncles, they had passed by the Grand Canyon and three months later this provided the first opportunity for more than 150 members of the family to ride out and perform what now feels (at least to us) like a time honoured ritual of sprinkling his ashes into its void.
It's still too early for Denise and Dale to judge how their grief will play out – they are counting on the huge support they get from all those around them. But they are also the rock on which the family depends for its own survival and this will take its toll. Though rare, the moments that Denise's finds to mourn her son alone mean everything to her.