Name: Beth  Leyba and Jim Norland
Location: Denver, Colorado
Filming Dates:  30th September and 1st October  2015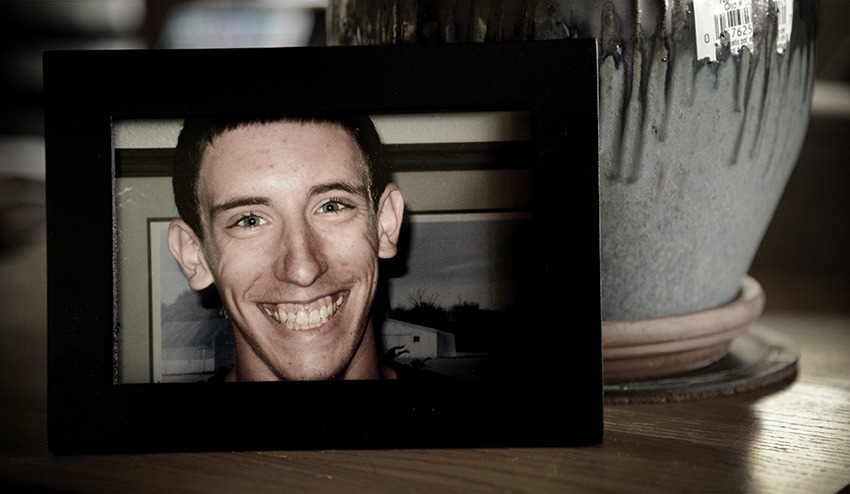 This is Josh Norland.  Beth Leyba had been dating his dad Jim for a couple of years and was only beginning to get to know Josh when he was killed aged 22 in a road accident in August last year. One her best memories is the day he helped them move in together, just five weeks before he died.  As his stepmother Beth feels that her ability to grieve is compromised by people's concern for his Dad and his sister Aria – "they see me as Jim's support and not as Josh's stepmom or my kids as his step sisters".
Strangely though, Aria echoed her thoughts as did Jim. Both sister and Dad separately told us they felt isolated and had difficulty getting their feelings recognised. Here were two divorced parents, just getting to know each other and in the process of 'blending' their families when tragedy struck and seemed to jeopardise all they had built so far.   Reactions to their grief were then compounded by expectations of who has the more 'right to grieve'.   For Aria, the 'forgotten' sibling who will always be wary of making her parents grief more painful if she shows her own sadnesses, for Jim, the father who should not weep for his son lest this is sign of weakness, and for Beth herself who has no biological connection to Josh.
'Disenfranchised grief' is what they are describing. Step parents and siblings in equal measure are often on the receiving end of this as well as people who may be nursing someone who has a terminal disease and where the impending death can be viewed as insignificant compared to the actual death. Disenfranchised grief is a hidden grief and this "hiddenness" can paradoxically increase the reaction to the loss when it is not socially recognised by others.
For the Norlands and the Leyba's the way round this has been a complete openness and honesty with each others feelings and a commitment to tolerating the uncomfortable.   The first step, they say, is to recognise that they are entitled to grieve in whatever way they like, and that no one has the right to take their grief away from them – since Josh died Beth has known 6 more deaths in her family, albeit from a much older age group.   "The universe" she says "seems to want me to know and understand grief".